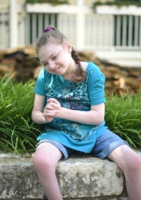 Carolyn Michila Welch
Carolyn Michila Welch, 16, entered into the arms of Jesus on Tuesday, July 31, 2018, being held by her mother (and surrounded by some loved ones) at Cook Children's Hospital in Fort Worth.
Memorial Service will be held on Sunday, August 5, 2018, at 5 p.m. at Church of the Open Door, 900 TX-340 Loop, Waco, TX 76705.
In lieu of flowers, we ask that contributions be made in Carolyn's name to Church of the Open Door or the Cook Children's Pastoral staff.
Carolyn was born on August 5, 2001, to Tonia Johnson and Michael Welch in Waco.
Carolyn's name comes from five people. Both of her grandmothers' are named Carolyn. The "Mich" comes from her father and brother and Ila was the name of her great-grandmother.
Carolyn always loved going to church and school and being around children of all ages.
She always had to have music playing or the television on. And, she loved playing with her toys.
Carolyn lived in Bellmead with her mother and went to LaVega High School. This was to be her senior year.
She is now dancing with Jesus along with her paternal Grandmother Carolyn and Grandfather James; maternal Great-Grandmother Ila, Great-Aunt Mada, Grandpa Jake, and adopted Uncle Donnie.
She is survived by her mother, Tonia of Bellmead; brother, Micheal of Gainesville; Grandma Carolyn, Grandpa Fred and Uncle Clinton of Riesel; Uncle Jacob, wife Angel, and cousins Brennen and Kayla of Riesel; Aunt Jennifer, husband Carlton, cousins Mada, Merritt (of Vermont) and Andrea and Isaiah of Temple; Great Grandmother Janie of Bellmead; paternal Grandmother Frances of Hewitt; Uncle Brian and cousin Oscar of New Hampshire; and father, Michael of South Carolina and so many other family and beloved and very close friends.
The family wishes to thank Cook Children's Hospital of Fort Worth for taking such good care of Carolyn and being comforting and sympathetic to us. We also want to thank Martin Thompson and Son Funeral Home for their graciousness in taking of care of Carolyn after her passing. Carolyn has had many specialists throughout the years that have been a great addition to the team, we appreciate you. A huge thank you to Dr. Julian and Jacque at Providence family medicine-you have always gone above and beyond when taking care of Carolyn and have always helped do what was in her best interest. To all of the teachers, therapists, and everyone else that has been a part of Carolyn's life, there are no words to say for all the work you did for her. People who have a true heart for our kids are a real blessing from God. We would also like to thank everyone for the thoughts, prayers, and encouraging words that have been posted, texted, and phoned in.
Philippians 4:7
… you will experience God's peace, which is far more wonderful than the human mind can understand. His peace will keep your thoughts and your hearts quiet and at rest as you trust in Christ Jesus.
Numbers 6:24-26
24 The Lord will bless you and watch over you.
25 The Lord will smile on you and be kind to you.
26 The Lord will look on you with favor and give you peace.