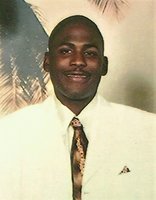 Herchel Jerome Abor
Mr. Herchel Jerome Abor was born in Fort Worth, Texas, on September 27, 1986. On April 11, 2018 he found his resting place in heaven along side his mother Cassandra and grandmother, Janice Abor at the age of 31. He was a High school graduate of Paul Laurence Dunbar, Class of 2005. Herchel considred himself an active member of New Restoration Church in Fort Worth, Texas.
Herchel did not have children, but was surrounded by a large family and great friends. His love and dedication to his two nephews and three nieces was remarkable.
Hershel will be loved and missed by surviving sister, Tyeisha Abor; brothers, LaDale & Christopher Abor; and one uncle, Anthony Abor.
Gathering of Family & Friends: 7 - 9 p.m. Friday, April 13, 2018 at Thompson & Son Funeral Home, 6009 Wedgwood Dr., Fort Worth, TX 76133.