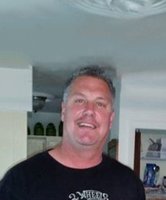 Robert Wayne White
Robert Wayne White, 53, passed away on Sunday, April 8, 2018.
Gathering of Family and Friends: 6 pm - 8 pm Tuesday, Martin Thompson & Son Funeral Home, 6009 Wedgwood Dr., Ft. Worth.
Robert, Slobert, Big Guy, Big Rob,Gentle Giant, Rob, Robbie, Crazy Robert. Whatever name was your endearing name for him, Just know he loves everyone of you. He has the biggest heart and it didn't take much to tug on his heart strings, one of the many reasons I Love him. The out pour from all the love you have shown Savanna and me is a witness of the friendships he has made. Robert's Mom recently passed away and was always writing letters to her children and me and even though he and I aren't strong in our Christianity , I think he would like sharing a part from one of her letters.
"Sometimes our faith gets so small that we are left only with hope. That's good, because hope is like an ember in a fireplace. Hope keeps us going when things get rough, and that hope can spring up(just like an ember) into faith." That's when God answers prayer- either out of faith or through faith of a friend."
Ride in Peace My Love, Kim
Survivors: Wife Kim Robardey; Daughter, Savanna White; Father Lawrence Alfie White; Mother Bobbie Geneva White; Siblings/Spouses, David White (wife Chris), Steve White (wife Karen),Janice Krawetzke (husband Gary Krawetzke), James White (wife Gay); Nephews and Nieces, Steve White, Kevin White, T Loren White, Kristin Krawetzke.