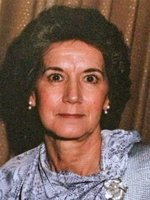 Marcella Engler
Marcella Engler, 91, of Temple, Tx, passed away peacefully on March 19, 2018. Marcella was born on May 15, 1926, in Watertown, South Dakota, the second of six daughters born to Ben and Agnes Jankord. On Oct. 20, 1945, Marcella married George Harvey Engler. They had 9 children. In 1966, with a new business opportunity, they moved their family to Abilene, Texas. Marcella was a woman of deep Christian faith which guided her life. She was a devoted wife, mother, grandmother, great-grandmother, daughter, and sister. She and Harvey brought up their children in the Christian faith and worked hard to provide opportunities and the best education for all of their children. Marcella was a member of First Lutheran Church of Temple.
Marcella is preceded in death by her husband of 56 years, George Harvey Engler, and 2 sons, Dean Harvey Engler, and Kevin George Engler. She is survived by 7 children, Diane Engler, Deborah Engler-Key (Stan Key), Daniel (Suzzet) Engler, Donna Engler, John (Tommie) Engler, Darla Engler, Kim Engler-Spiers (Justin Spiers), as well as 7 grandchildren and 6 great-grandchildren. Marcella has one living sister, Minerva Joy Brandt, and one sister-in-law, Ardy Huke, and numerous nieces and nephews.
A memorial service will be held on April 6, 2018, at 1:30 in the Founder's Chapel at White's Chapel UMC in Southlake, Texas.
Marcella will be buried at Mount Hope Cemetery in Watertown, South Dakota, next to her husband and two sons.
Memorials may be sent to: Faith Works program, Backpacks for Kids, Whites Chapel United Methodist Church, 185 South White Chapel Blvd. Southlake, Texas. 76092