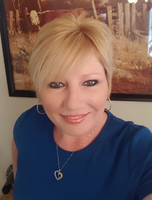 Bonnie Jean McMahan
Bonnie Branam-McMahan, of Fort Worth, Texas passed away at the age of 47 on the morning of March 23, 2018, fighting a battle with cancer.
Her memorial service will be held on Friday, March 30th, at 2 p.m. at the Oak Knoll Chappel. The address is 478 Three Skillet Rd, Springtown, TX. If you would like to send flowers, please send them to the Martin Thompson and Son Funeral home at 6009 Wedgwood Drive Ft. Worth, TX, 76133, as they are the ones arranging her service.
Bonnie was born in Ft. Worth, Texas on January 1, 1971, to Betty and Jody Branam. She graduated from Sam Rayburn high school in 1990 and obtained some college credit. She married John McMahan on March 4, 1994. They had three children together. She balanced being a wife, mother, homemaker, and woman in the workforce beautifully. She was a production supervisor at Cadcuts and her life revolved around her husband and children. She also had a large heart and was a motherly figure for a number of her children's friends. Her love knew no bounds and she was a strong, independent, intelligent, resourceful, and caring woman. In her spare time, she enjoyed cooking, spending time outside, and being with her family. She will be sorely missed by everyone who had the privilege to know her.
She is survived by her parents, Betty and Jody Branam; her husband, John; her three children, Lacey, Travis and James; and her sister, Connie; and her children, Christi, Britney, Cody, and Brandon.