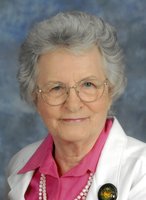 Nancy Elizabeth Tucker
Nancy Elizabeth Johnson Tucker, 90, joined her heavenly Father and family on Wednesday, March 21, 2018.
Service: 2:00 p.m. Friday, March 23, at First Baptist Church, White Settlement, 7801 White Settlement Road, White Settlement, TX 76108. Interment will follow at the Annetta Cemetery, 2667 W. FM 5, Annetta, TX 76008.
Visitation: at the family home is Friday, 5:00 – 7:00 pm.
Nancy was born in Fort Worth, February 13, 1928, to Eliza Ruth Wolfe Johnson and Joseph Hugh Johnson, Sr. She graduated from Paschal High School. In 1945, she married her forever love, Chester D. Tucker, and they were married 72½ years. The couple raised four daughters. Nancy was a devout Christian, teaching ladies Sunday School classes, leading Bible School, and working with her husband with the Texas Baptist Men building churches. She loved music and flowers, and providing a loving, nurturing and Godly home for her husband as well as her daughters, grandchildren, and great-grandchildren.
Nancy was preceded in death by her parents; her brothers, Joseph Hugh Johnson, Jr. and Cantrell Fred Johnson; sister, Addie Clair Johnson Mullis; daughter, Penny Elaine Tucker Mullins; grandson, Jonathan Carl McClendon; and son-in-law, Alva Scott.
Survivors: Nancy is survived by her husband, Chester Tucker; bother, Morgan Leon Johnson of South Carolina; daughters, Betty Scott of Aledo, Ellen Cullins and Husband, Freddie of Houston, Carol McClendon and Husband, Joe Liberto from Baltimore; son-in-law, Larry Mullens of Aledo; 16 grandchildren, Brian D. Scott and wife, Michelle of Fort Worth, Melody Scott Freeman and husband, Harry, of Fort Worth, Cathy Cullins Ash and husband, Cory of Brownwood, Andrea Cullins Sharples and husband, Jamie of Houston, Danny and wife, Laura of Colorado, Roger Cullins and wife, Catheryn of League City, Chris Cullins and wife, Amy of Colorado, Rhonda McClendon Hills and husband, Harlan of Atlanta, Melissa Mullens Hawley and husband, Nathan of California, Melinda Mullens Atkinson and husband, Ryan of North Carolina, Miranda Mullens Maughn and husband, Josh of Weatherford, Trey Mullens and wife, Jessica of Fort Worth, Tucker Mullens and wife, Erin of Fort Worth, Megan Mullens Shannon and husband, Matt of Aledo, Taylor Mullens and wife, Annaleigh of Aledo, and Trevor Mullens of Aledo; 18 great-grandchildren, Carson and Avery Scott; Christy, Katie, Ryan and Sarah Ash; Robin, Jarrett, Andrew, Rylan and Weston Sharples; Brady, Elizabeth and Will Cullins; Parker and Ella Cullins; Caden, Reese, and Andie Cullins; Daniel and Benjamin Atkinson; Charlton and Marin Hills; Brendon, Samuel and Josh Maughn; Tess, London, Nolan, and Landry Mullens; and June Mullens.