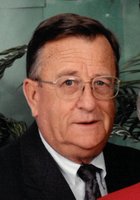 Donald Elmer Carter
Donald Elmer "Buddy" Carter, 83, passed away on Friday, March 9, 2018.
Memorial Service: 10:30 am, Saturday, April 14th, Everman United Methodist, 530 Townley Dr, Everman.
Burial: 2 pm, Sunday, May 27, Blair Cemetery, Blair, Oklahoma.
Memorials: In lieu of flowers, a fund has been established at Texas Wesleyan University in honor of Donald E. (Buddy) Carter. The money will benefit the Wesleyan Baseball Program. Send donations to: Office of Advancement, Texas Wesleyan University, 1201 Wesleyan, Ft. Worth, TX 76105. Remember to mention it's in honor of Buddy Carter.
Buddy was born on November 3, 1934 in Blair, Oklahoma to Henry and Clara Carter. He served in the United States Army near the end of the Korean War. Buddy received his bachelor's at Texas Tech University and his master's from Southern Methodist University. He worked as a Registrar at Texas Tech University and Texas Wesleyan University. Buddy was a former Councilman and Mayor Pro Tem in Forest Hill. He loved sports, especially Texas Wesleyan baseball and basketball. He loved to garden, take care of his pecan trees, and spending time with his wife Roberta of almost 62 years.
Survivors; Wife, Roberta Carter; daughter, Suzanne Stidom and husband Dolan; son, Andy Carter and wife Mona; grandchildren, Josh Stidom, Jandee Montanez, Chase Carter and wife Allison, Callie Gordon and husband Jeremy; great grandchildren, Corryne and Colette Montanez; his dogs Hondo and Prissy; numerous other relatives and friends.