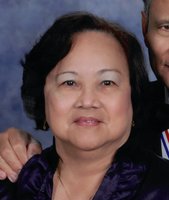 Enriqueta "Enrie" Shelton
Enriqueta Shelton, 81, passed away on March 8, 2018.
Memorial Service: 10 a.m. Monday, St Peter Catholic Church 1201 S. Cherry Ln, White Settlement, TX 76108.
Enrie was born on February 2, 1937, in San Fernando, Pampanga, Philippines. She received her bachelor's in education from Holy Angel University. Enrie taught in the Philippines and California. She loved watching her soaps and very active in the Cursillo in Christianity movement. Enrie was a loving wife, mother, grandmother, and friend.
She was preceded in death by her parents and several brothers and sisters.
Survivors: Husband Roy Shelton; children, Roy Shelton and wife Kara, Ron Shelton and wife Arlene, and Rona Jongewaard and husband Scott; grandchildren, Reigh, Mya, Byron and Maximus Shelton, Maddy, Meg, Tate and Teague Shelton, AJ and Sydney Jongewaard; brother, Ben Yutuc; and extended family and friends.