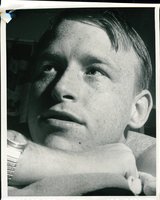 Bowden Barto Farrar
Bowden Barto Farrar, 73, passed away on March 6, 2018.
Memorial Service: 11:00 a.m. Tuesday, March 20, 2018, Thompson & Son Funeral Home, 6009 Wedgwood Drive, Fort Worth, TX 76133.
Barto was born April 22, 1944, in Fort Worth, Texas to Simon and Moreland Farrar. He received a Fine Arts Degree from TCU in 1968. Barto worked for 23 years as an Audio Engineer for CBS 11. He enjoyed gardening and had an immense passion for photography.
He was preceded in death by his wife, Ermaleen Kay; and his mother, Moreland Smith.
Survivors: Son, Anthony Brandon Farrar, and wife, Sara.