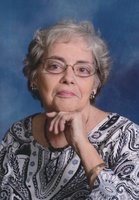 Katherine Suzanne Paulding
After a brief battle with cancer, Katherine "Kitty" Paulding entered heaven and was reunited with loved ones on Sunday, March 4th, 2018, at the age of 73.

Kitty was born to Charles and Melba Soule on July 15th, 1944, in Lubbock, Texas. She attended Edison High School in Tulsa, graduating from San Marcos Baptist Academy in San Marcos, Texas, before attending the University of Arkansas.
Kitty was known for her many years of sacrificial, behind-the-scenes service to her family and her Lord. She had a special gift for administration and kept things running smoothly for churches and Christian organizations throughout her lifetime. She dearly loved her friends in the congregation at Saint Francis Village Protestant Fellowship, and was so thankful for her job in the office there.

Kitty made friends everywhere she went, as people gravitated to her kind and gentle personality. She was especially fond of her fellow alumni from San Marcos Baptist Academy. She spent many happy hours with them in San Antonio and at the ranch of their friend, Harry Grant, in Kitty's beloved Texas Hill Country.
She had a special love for music, and lent her beautiful alto voice to many choirs and church ensembles over the years. She embraced hymns and contemporary worship music as special favorites, but she could also be seen dancing in her house to a golden oldies radio station.
Kitty is survived by her son, Patrick "Ryan" Paulding; his father, Jerry (and wife, Misti) Paulding; grandchildren, Ashley (and husband, Daniel) Timberlake, Bobby (and wife, Kristen) Belt, Amanda Belt, Daniel Belt, David Belt, Douglas Belt, Jared Belt, Ricky Belt, Erinne Belt, and Trevor Thompson; great-grandchildren, Jacob Belt, Addison Belt, Laura Belt, Poema Timberlake, Isla Timberlake, and Pax Timberlake; sister, Carol (and husband, Bob) Bell; niece, Melanie Bell; son-in-law Bob (and wife, Pam) Belt; and a host of additional, loving family and friends.
She is preceded in death by three infant children, Teresa Carol, David Allen, and Michael Brock; her daughter, Laura Paulding Belt; and her parents, Charles and Melba Soule.

A memorial service will be held at 11:00 a.m. on Saturday, March 10th, 2018 in the chapel at Saint Francis Village Protestant Fellowship (281 St. Clare Drive, Crowley, TX 76036). Pastors Ken Parlin and Jerry Paulding will officiate. Family and friends will also be encouraged to share memories and comments.

In lieu of flowers, donations may be made in Kitty's memory to Saint Francis Village Protestant Fellowship Church (www.sfvpf.com) or Community Hospice of Texas (www.chot.org). Flowers may be sent directly to the church.
The family would like to extend special thanks Cindy Carfa and the staff at Community Hospice of Texas for the kind care they provided Kitty at home and to Bob Drapiza and Ella Horne, of Emery J. Lilge Hospice House in Burleson, for the loving, compassionate nursing care they invested in Kitty's last days with us.

The family would also like to express sincere thanks to Kitty's friends and neighbors at Saint Francis Village: Karen Atkins, Lyda and Gerry Young, Ann Shaw, and Sheila Richards, for the help, care, and companionship they offered throughout Kitty's battle.

Fondly known by her family as "Nana", Kitty will be remembered as a selfless, devoted, and kindhearted woman by those she leaves behind.