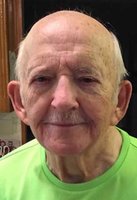 Elwin Kieth Haseltine
Elwin K. (Bud) Haseltine went to be with the Lord on Friday, March 2, 2018 at the age of 88. He was born in Springfield, Missouri, the only son of Chester and Mabel Haseltine. Preceded in death by both of his parents, two of his three sisters, Nancy and Gwen, and his oldest son, Tim, he leaves behind his wife Marilyn of 63 years, son David, daughter Regina, sister Leila Rembisz, numerous nieces, nephews, grandchildren, great-grandchildren, and extended family and friends.
Service: 10 am Wednesday, Pleasant Glade Baptist Church, with a visitation from 8:30 am - 10 am.
Interment: 11:30 am Wednesday, Dallas Ft. Worth National Cemetery.
After serving in the US Navy in the Korean War, Elwin was a pastor for 40 years, earning both an MBA and a PhD in theology. Despite his academic credentials, he preferred "just Bud."
Since childhood he loved magic and performed many tricks applying scripture lessons into his act. Specifically memorable was that he could breathe fire.
Elwin was greatly loved, and we rejoice that he is in Heaven with our loved ones and friends that have already passed.