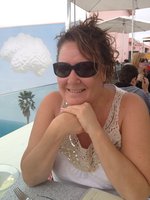 Tina Marie Landes
Tina Marie Landes, 58, passed away on Thursday, March 1, 2018, surrounded by her family.
Service: 10 am Tuesday, Thompson Chapel, 4350 River Oaks Blvd, River Oaks.
Visitation: 5 pm – 7 pm Monday, Thompson Chapel, 4350 River Oaks Blvd, River Oaks.
Memorials: In lieu of flowers, donations may be made to the Elvira Reyes, Tarrant Area Food Bank,
2525 Cullen Street, Fort Worth, TX 76107 or Mission Arlington/Mission Metroplex, 210 W. South Street, Arlington, TX 76010.
Tina was born on September 7, 1959 in Port Arthur to James and Jannette Provost. She was a 1978 graduate of Richardson High School. Tina earned her bachelor's degree in marketing from Texas Woman's University, and her master's in marketing also from Texas Woman's University. After graduating she worked in Marketing until she took a position as an Adjunct Professor at Texas Woman's University teaching Marketing. During this time, she met Dennis Landes and they were married in 2007.
Tina was hired as a Marketing Education Teacher at Eastern Hills High School and served as the Tennis Coach. She and her husband enjoyed many wonderful experiences together including her love of traveling, particularly to her favorite destination San Diego, CA. She also enjoyed the Theatre and they went to New York many times to see her favorite Broadway Plays. Her love of the New York Yankees was always a fun poke at her husband's long-suffering Texas Rangers. Tina touched and impacted many lives and was loved by all who knew her.
Survivors: Husband, Dennis Landes; parents, Jannette and Pat Provost; sisters, Jeannen Provost, Trina Provost Starr and husband Jeff, and Carla Kay East; and extended family and friends.