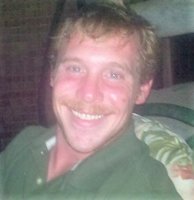 Andrew Rix Miller
Andrew Rix Miller, 34, passed February 14, 2018. He was born April 28, 1983, in Wichita, KS to Blair Miller and Angela (McWhorter / Miller) Waldo.
Graveside service with full military honors will be held at 11:15 am, February 26th at the Dallas-Fort Worth National Cemetery. Immediately following will be a Celebration of Life at VFW Post 10454 in Grapevine, TX.
Andrew was a Sergeant in the US Army, serving two combat tours in Iraq, and was a lifetime member of VFW Post 10454. He proudly served his country and made countless friends among his brothers in arms. He was a talented artist, craftsman and welder with a huge heart and wicked sense of humor. Unfortunately, Andrew succumbed to depression and the effects of Post Traumatic Stress Disorder after a valiant 14-year battle.
He was preceded in death by his grandparents Lewis and Pamela Miller and Walter and Betty McWhorter.
Along with his parents, survivors include his sister, Evan Waldo-Kraus (Ethan); brother, Aaron Waldo; nephew, Aiden Waldo; step-father, Kenneth Waldo; aunts, Sherry Sanchez (Ron), Devon Bowsher, Alex (Rob) Thayer; and many family and friends who loved him.