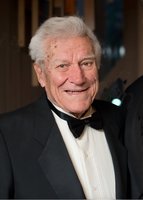 Nolen Gale Massey
Nolen Gale Massey, 90, beloved husband, father, and "PaPa", passed into his heavenly home on Monday, February 19, 2018, with his family by his side.
Nolen was born on June 7, 1927, in Woodson, Texas to Paige Murrel and Lillie Mae Mitchell Massey. After graduating from Throckmorton High School in 1945, he served in the Army at Fort Sam Houston from 1945-1946. He attended and graduated from North Texas State on the GI bill and became the first member of his family to graduate from college. Nolen was awarded membership in Sigma Pi Sigma National Physics Honor Society and spent the majority of his career as a professor of Physics at UTA from 1957 until his retirement in 1992, serving as acting department chair from 1967-1968.
Nolen was a longtime resident of Mansfield, moving to Grandview in 2013, but his heart was always with "the farm" in Woodson where he loved family gatherings and fishing expeditions with his children, grandchildren, and brother Bill's family.
Nolen was a lifetime avid reader and his grandchildren were the favorite subjects of his love of photography. He loved talking about Physics to anyone that would listen. The Massey children were the only kids on the block who knew how to apply Newton's third law of motion to get ketchup out of a bottle. The only thing he liked talking about more than Physics was scripture. Nolen was a devout student and teacher of God's word and wrote several books to be shared with his family and friends.
He felt grateful for his many blessings from God and wrote to his children and grandchildren:
"I know my blessings come from God. I have always tried to acknowledge this and not bring dishonor to my God. I have, above all else, hoped that my children and their children's lives would reflect this understanding and appreciation by bringing honor to their creator. There are no other paths to peace and happiness. ' I am the way, the truth and the life'. John 14:6"
His love for the Lord and devotion to his family will be a lasting legacy for those he left behind. He is survived by his loving wife of 62 years, Edwena; children Sharon Massey, Julie Bowers and husband Randy, Marian Hull and husband Jack, Jon Massey and wife Sonya, and Sara Massey and fiancee Pat Zajac; beloved grandchildren Rebecca and Ivan Lippens, Lauren and Seth Bowers, Haley and James Hull, Jordy Massey and wife Abbie, Jake, Kira and Travis Massey, Trevor, Shelby, Jade, Trinity, Luke and Levi Bontke; great-granddaughter Cora Lippens.
Nolen was preceded in death by his brother Bill Massey and sister-in-laws Norma Massey and Nanette Osborne.
We love you and miss you PaPa. Until we meet again.
Visitation will be Friday, February 23 from 6:30- 8:30 p.m. at Burleson Commons Church of Christ, 305 SE John Jones Dr.
Graveside service Saturday, February 24 at 2:00 PM at Bush Knob Cemetery in Throckmorton County.