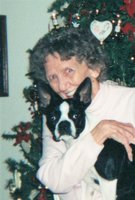 Helen Ruth Gaddis
Helen Gaddis, 93 passed away on Sunday February 18, 2018.
Graveside Service will be held Saturday, February 24, 2018 at 2p.m. at Grove Hill Cemetery, 3920 Samuell Blvd, Dallas, TX 75228.
Helen, born in Dallas Texas on June 13, 1924 and was an only child. She was raised in the country hard working parents who taught her to love the lord early in her life.
Helen was a kind and loving mother who always put her children ahead of her personal wants and needs. She was involved in pta during her children's grade school years and was a scout leader. She loved her church and worked as a volunteer in the church bread basket. Helen loved to dance, listen to country music, play board games and garden. She loved her dogs and treated them like children and she hoped they would be in heaven when she got there.
Survivors: Children, Pat Maurer, Shirley Baker, Lenda Hodge, Doug Gaddis; seven grandchildren; and nine great-grandchildren.