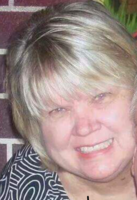 Cynthia Ruth Barnes
Cindy Barnes passed away peacefully on Thursday, February 8, 2018 in North Richland Hills, Texas surrounded by her loving family.
Service: 1 pm Tuesday, Compass Christian Church, 2600 Hall Johnson Rd, Colleyville.
Visitation: 6 pm – 8 pm Monday, Foust Chapel, 523 S Main St, Grapevine.
Interment: Bluebonnet Hills Memorial Park, Colleyville.
Cindy was born on May 5, 1950 in Fort Worth, Texas. She was a resident of Southlake, Texas. Cindy was a caring Grapevine Volunteer. To name a few, she was very active in the Woman's Division of the Grapevine Chamber of Commerce and was named "Woman of the Year" in 2001. Cinday was also active in the Lady Ambucs. In her younger years she was named the first "Miss Lake Grapevine" and she has always been very proud of that honor.
Cindy lived a full life. She with her strong spirit and sense of humor will be deeply missed. Her love will linger in our hearts forever. Cindy loved the Lord and was a faithful friend.
Survivors: She is survived by her husband, David Barnes of Southlake; daughter, Amy Martinez and husband Pete of Keller; stepson Danny Barnes of Bailey; Cindy is also survived by her sister, Bobbie Fowler of Colleyville and a brother, Mike Frye and wife Sally of North Richland Hills; and her greatest joy her six grandchildren.