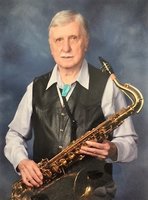 Sidney Joseph Soukup
Sidney Joseph Soukup passed into Heaven in the late morning hours of February 3rd, 2018. Thus, the celebration of his rich life that began 86 years earlier.
A visitation will begin at 11:30 a.m. with a service starting at 12:30 p.m. Saturday, February 10, 2018 at South Park Funeral home and Cemetery 1310 N Main St, Pearland, TX 77581.
Should friends desire, memorials may be made to Turning Point Ministries, Account# 1849877, PO Box 3838, San Diego, CA 92163.
On February the 4th 1931 Sidney Joseph Soukup was brought into this world by Czech immigrants Rudolph Soukup and Anna Rabata Soukup. In his humble beginnings young Sidney knew he would not be confined for life to his father's furniture repair shop in the Houston Heights. As a teenager he became passionately intrigued by electronics--- he was destined for a better life. He independently studied electronics and educated himself in radio and television repair, even before graduating from high school. After being drafted during the Korean War, the U.S. Army noticed his talent and put it to good use repairing radios for Military Police units.
In his youth, he also enjoyed being a musician. He played clarinet and saxophone in the Reagan High School band and soon began playing professionally. After his honorable discharge from the army, Sidney pursued mechanical engineering at the University of Texas. He would be the first of his family to earn a college degree. During his years studying at Texas, he would reveal yet another talent, this time in athletics, as an award-winning gymnast. By now it would be clear that Sidney was a man of determination and wanted to make every second of his life count. He had goals and passions and was driven to live them out and enjoy.
Sidney became employed as an engineer for Lockheed Martin, a contractor for the NASA space program. More significantly though, he married D'wanna Janice Womack during this time. They raised five children and remained faithfully married until she predeceased him in 2008. During his years of work for NASA, he assisted putting men on the moon in the Apollo program, and then with the space shuttle program. In his off time, Sidney was a dedicated father to his five kids. Many fun and memorable days were spent boating on Galveston Bay, or enjoying cross-country summer vacation trips. During these years he also served as a gymnastics instructor, and even became a single-engine airplane pilot.
In his retirement, he and his wife D'wanna Janice relocated to the piney hills of Cold Spring, in east Texas. Here, he enjoyed a quiet life of longhorn cattle ranching, and performing as a musician. Throughout his accomplished life he set a sterling example to his children and others of all that can be accomplished through hard work, determination, and optimism. Sidney is survived by his three daughters Suzy Marshall, Sandy Cooper, Linda Gray, his son J. Allen Soukup, as well as six grandchildren and five great grandchildren.