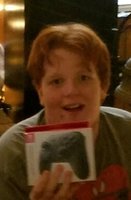 Joshua Bryton Harmon
Joshua "Josh" Bryton Harmon, 14 of Watauga, Texas, went to be with our Lord on Wednesday, January 31, 2018, at 1:21 pm. His passing resulted from complications of asthma.
Service: 2 pm Saturday, Watts Chapel United Methodist Church, 6924 CR 308, Grandview, Texas.
Joshua came into this world on April 18, 2003 at 7:52 am, as the beloved son of John & Lindy Harmon, and baby brother to Drew Harmon.
Joshua was a freshman at Central High School in Keller, where he played tackle on the football team, sang in the choir, and performed solos in previous years. He also loved to drive boats, and sang and play keyboard in a band. There wasn't much Joshua didn't excel at, but his #1 first love was video games.
Joshua came into this world with such a strong sense of self awareness. He seemed to always know right from wrong, and possesed an unwavering moral compass.
Joshua seemed to know who needed a friend. He always protected those smaller than him. He never liked bullies and would comfort anyone he thought might be picking on someone, friends and strangers alike.
Joshua gave of himself always. His last gift was given through Life Gift, who is and organ donation non-profit organization that matched his organs so that others could be protected one last time.
Survivors: Joshua is survived in death by his mother and father, Lindy and John Harmon, Watauga; big brother, Drew Harmon, Watauga; grandparents Gerry and Aunnie Harmon, Saginaw, and Nana Adele Harmon, Round Rock; aunts and uncles, Terrry and Nina Shaw, Watauga, Brad and Lydia Harmon, Round Rock, Laura Harmon, Round Rock, Carmon Byers, El Paso, Meg Byers, El Paso, and Michael and Mary Fugitt, Sand Flat; and numerous sweet cousins and friends.