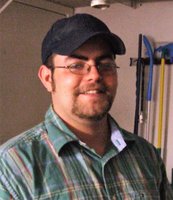 Adam Lee Heath
Adam Lee Heath passed away on Friday, February 2, 2018.
Visitation: 6 - 8 p.m., Wednesday, February 7, 2018, Thompson & Son Funeral Home, 6009 Wedgwood Dr., Fort Worth, TX 76133.
Service: 2 p.m., Thursday, Hallmark Baptist Church, 4201 W Risinger Rd, Fort Worth, TX 76123.
Adam was born on April 7, 1986 in Fort Worth, Texas to William and Patti Heath. He was a sensitive, kind soul who loved working with his hands, blaring great rock music, cooking and grilling, loved to laugh, and even admittedly a wrestling fan.
Survivors: His father, William; His mother, Patti; brother, Blake; nephew, Evan; niece, Kirsten; grandparents, Walter and Gladys Norwood; cousin, Amber Norwood-Powell; step-sister, Kristin Rene; And so many other Cousins, Aunts, Uncles in both The Heath and Norwood families.

Adam had a huge heart and loved everyone he knew so much.He will be greatly missed by so many friends and family.