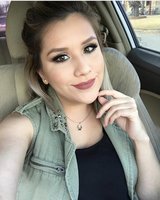 Paola Hernandez
Paola Hernandez, 25, passed away on Saturday, February 3, 2018. Although gone too soon, we are at peace knowing that she is now rejoicing with the Lord.
Visitation: 6 - 8 p.m. Tuesday, February 6, 2018, John Knox Chapel, 4350 River Oaks Blvd, Fort Worth, TX 76114.
Service: 10 a.m. Wednesday, February 7, 2018, Holy Name Catholic Church, 2635 Burchill Rd, Fort Worth, TX 76105.
Interment: Mount Olivet Cemetery, Fort Worth, TX.

Paola, beloved daughter, sister, aunt (Pao as her niece and nephews would call her), and friends, was loved by so many around her. Her spirit brought joy to so many. She loved all kinds of genres of music and she enjoyed singing her heart out. From George Strait to Vicente Fernandez, she was always up for a good signing competition. Paola always thought ahead and looked into her future and she had so many plans ahead of her. She was a successful young lady as well as a perfectionist and hard worker.

She will be remembered by her loving and supportive parents, Armando and Juanita Hernandez, her brother Armando (wife Crystal), her sisters Denise (husband Leo Cortez) and Damaris. Her nephews Andrew and Ashton and niece Aubrey whom brought her so much joy and filled her heart and their hearts with so much love.

Pao will be missed dearly but her memory and legacy will live through so many that loved her.