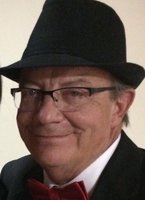 Anthony Ohlig
Anthony Quinn Ohlig, 63, passed away on Sunday, February 4, 2018.
Visitation and Rosary; 3 pm – 5 pm Wednesday, St Bartholomew Catholic Church, 3601 Alta Mesa Blvd, Ft. Worth.
Service: 10 am Thursday, St. Bartholomew Catholic Church.
Interment: Laurel Land Memorial Park, Ft Worth.
Anthony was born on December 1, 1954 in Hereford, Texas to Leo and Dorothy Ohlig. He was a 1972 graduate of Hereford High School. Anthony was a loving and devoted husband, father, grandfather, brother and friend. He never missed any of his kids functions. Anthony enjoyed playing golf, woodworking, and watching Perry Mason reruns.
Anthony was preceded in death by his parents and a brother Gary Ohlig.
Survivors: Wife and best friend for over 40 years, Mary Ohlig; children, Michael Zidek and his wife Christine, Mary Elizabeth Palmer and her husband Cody, and Bonnie Marie Boswell and her husband Aubrey; grandchildren, Mary Carlyle Palmer, Wyatt Howard Palmer, Levi Zidek, and Brianna Zidek; brothers, William Ohlig, Ronald Ohlig, Wade Ohlig, and John Ohlig; and numerous nieces, nephews and extended family.