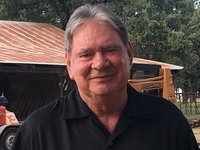 Don Butler
Donald Stanley Butler left his hundreds of friends and family February 1, 2018 to be with Jesus Christ his Lord and Savior.
Service: 11 a.m. Monday, February 5, 2018, J.E. Foust Chapel, 523 S Main St, Grapevine, with a visitation from 10 – 11 a.m. Monday, February 5, 2018 in the chapel.
Interment: Grapevine Cemetery.
Don was born in Haltom City, April 19, 1950 to Stanley and Betty June Butler. His youth was full of life and activity. Through the FFA he learned his love of animals, raising and showing Holstein Dairy cattle throughout the state. At Grapevine High School he enjoyed all sports, but he loved football where he played left tackle, "No. 74 in your programs, Number one in your hearts." He loved those Grapevine Mustangs of 1968 & 69. Construction always interested Don, the early '70's Don formed Butler Construction building homes in the mid-cities. Later he formed Butler Concrete Construction building large projects throughout Texas, California, Pennsylvania, Louisiana and Alabama.
Desiring to spend more time with his family and friends in Colleyville, he curtailed his travels to more local endeavors. Don's interests included a love of cars, both Hotrods and Classics. Don was also an avid drag racer with his cars winning Championships including Texas Pro Stock. Hunting was also a love of Don's, he traveled the world in search of exotic animals. Fishing too, the strike of a forty-pound salmon was among his greatest thrills. He was ever generous to share his catch. Don always felt a deep respect for the community in which he lived and a desire to be of public service. He was elected to the Colleyville City Council in both 1994 and 1996. He served those years with pride and distinction. Don has always been a man with high energy. He returned to the concrete business starting Butler Ready Mix in 1997. With only one plant and twelve trucks he grew the business in a few short years to four plants and sixty trucks. In 2000 Don sold his business to U.S. Concrete opening many more opportunities. Don was one of the founders of H Bank of Texas in Grapevine. He worked tirelessly to help establish this bank as a successful financial institution, selling his interests in 2014. He developed Speedway Storage on acreage he owned close the TMS successfully selling this project 2016. Don's love of livestock had never waned over the years and given the time and the opportunity he returned to the love of his youth, raising livestock. But as in all his efforts he strove for excellence breeding Championship Longhorn cattle on his ranch in Granbury, TX. After surviving a heart transplant, Don continued to live his life to the fullest. In his declining years, he treasured the time that he could spend with his wonderful grandchildren.
Don will be fondly remembered by his friends and family as a "Mans Man", truly bigger than life and always loyal to his friends. The Lord created a very special person in Don Butler and now there is a hole on earth that will not be easily filled.
Survivors: Don is survived by his loving wife Lynn, his children, John Butler (wife Tammy) & Beth Gordon (husband Marc) Step-son Chris Las (wife Charlotte), his grandchildren Dylynn Hokett (wife Hailey), Amanda Toler, Clay Butler, Emma Butler, Mia Gordon, Jack Gordon & his Goddaughter Kelsey Bohannon-Brown (husband CT).