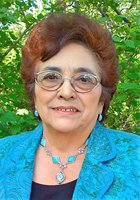 Marie Vera Cure
Marie V. Cure, 84, went to be with the Lord on Tuesday, January 9, 2018.
Service: 1 p.m. Saturday, January 13, 2018 at the Marty Leonard Chapel 3131 Sanguinet St., Fort Worth.
Visitation: 12 - 1 p.m. Saturday at the Marty Leonard Chapel.
Interment: Mount Olivet Cemetery.
Father Tony O'Donovan will be officiating.
Marie was born September 12, 1933 in Nacogdoches, Texas. She was born to Jack and Laney Luna, a loving mom and dad and one of nine children. Marie cherished her large family of siblings and many aunts, uncles and cousins.
Marie had a great laugh and always had a warm smile. She was a loving wife, sister, mother, grandmother and aunt. She worked alongside her husband Bobby at BC Printing for almost 30 years.
Marie loved the outdoors from her child hood days in the east Texas Piney Woods. On the weekends you always found her at the family farm, working on her garden and flowers. She loved hunting, fishing and walking. Marie was always the life of the party, with her love of dancing and music.
She is proceeded in death by her parents, sisters, Mary Bullock and Velma Crow; brothers, Lewis, James and Thomas Luna; and grandson, Corey Valliant.
Survivors: Husband, Bobby Cure; children, Beverly Precella, Jack Precella (Karen) and Jeff Precella; Bob Cure (Julie), Kim Johnston (Walon); brothers, Robert Luna, Lonnie Luna and John Luna (Lorraine); grandchildren, Andrew and Grant Precella, Dylan, McKenzie, Kalon, Kaylee and Tammi Howard (Pete), great-grandchildren, Kyla, Riley, Ayden, Josh , Shelby , Andrew and Hunter; and many nieces and nephews.