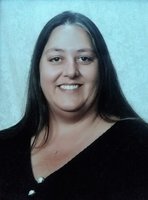 Cheri Lea Sullivent
Cheri Lea Sullivent passed away peacefully at her home in Garland, Texas on January 6, 2018. A celebration of Life memorial will be held Saturday January 13, 2018 at the Cliff Nelson Recreation Center multi-purpose room 4600 West Bardin Road Arlington Texas 76017 at 2 o'clock in the afternoon with a dinner to immediately follow.

Cheri was born on August 31,1957 in Independence Missouri to Clifford and Geraldine Weakley. She was the fifth of seven children. As a child she loved to play outside and lay in the grass looking at the magical clouds. Cheri married Elmer Sullivent on April 4, 1975. Later that year she became a mother when Rebecca was born on September 29. She spent many years being a wonderful mother and wife. Then As Rebecca grew older Cheri returned to the workforce first working at King saver grocery. Shortly afterwards Cheri was blessed with the opportunity to begin working at LabCorp in 1988. After many years of trying Cheri and Elmer were over joyed to learn of her pregnancy in 1993. Unfortunately on March 5, 1993 Robert was still born after many complications. On March 5, 1994 Elmer went to be with the Lord. Cheri continued to work at Labcorp and carried many different hats all of which she excelled at while still helping Rebecca raise her first born grandson Dashon. Cheri then met and married William Hutton and they later divorced. At that time she had gained a wonderful friend DeMorris Hash. Their friendship soon developed into a beautiful relationship and on August 27, 2011 they were united in Marriage. In 2014 Cheri retired from Labcorp and began to spend time enjoying her grandkids and great-grand kids.
She was a beautiful soul who never met a stranger and was always there to help everyone even when she shouldn't have. If you got to know her you became family. Because of the amazing caring soul she was she gained many bonus family members. She was always Grandma, Aunt or Momma too many. Her laugh was infectious and her smile contagious. She loved all kinds of music time with the people she loved and dancing the night away. She always had a way to help calm you in your storm and encourage you to keep believing! Cheri passed away peacefully at home surrounded by her loved ones on January 6, 2018, after a long battle with multiple health issues.
She was preceded in death by her first husband Elmer Sullivent, her son Robert Sullivent, her parents Geraldine and Clifford Weakley her brother Clifford Weakly Jr., and sister Terri Weakley Rains. Left Behind to cherish her memories are Husband DeMorris Hash, Daughter Rebecca (Randy) Sullivent, step son Keith Hash, Step Daughters Megan Hash, Dezaray Hash. Sisters: Gail (Bruce) Tobin, Geri Rae (Britney) Weakly-Curry, Vicky Weakley, and brother Eddie (Nicole) Weakley. Grandsons Dashon Sullivent, and Andre Redmond, Granddaughter Alexandria Williams, step Grandsons Zachary Hash and Jeremiah Hash, bonus grandchildren Shyniece Gatlin, Alexandria Reliford, Ivyanna Sanders, Ladarah Akins, Nalicia Hamilton (LeLe), Leena'ea Hamilton (Coozie). Great-grandsons Jai'Shon Sullivent and Trai'Shon Sullivent. Bonus great grandkids Gabriel Gatlin, Makenzie Gatlin, Serenity Gatlin, and Prince Paul Gatlin. As well as many nieces' nephews' friends and extended family she took in as her own.

The World we know will never be the same without her here, but we find comfort in knowing she is pain free and always watching over us.
Donations and flowers can be sent to 301 Hockaday Avenue, Garland Texas 75043.