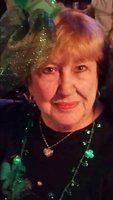 Sylvia Elaine Donovan
Sylvia Donovan died peacefully at home December 22, 2017.
She was born in East St. Louis, IL on January 6, 1937 to Leona Miller & Maurice Parnell. She was blessed with a long and colorful life. Regardless of the position she held, from executive secretary in St. Louis, to top seller in real estate in Lompoc, CA., to the position she held for the last 27 years as proprietor of A Great Notion Pub, in Ft. Worth, she was always joyful, kind and respected by those around her. She was the true definition of class, a woman whose strength and compassion inspired many. She is truly loved and will be missed by all who knew her.
We will be celebrating her life on January 6, 2017 @ 2 p.m. at A Great Notion. We will be doing potluck finger foods. Please join us for a toast as we share memories and say farewell.
She was sadly preceded in death by her son Michael P. Sheely, oldest daughter Sherri Plevnic & her sister Susan Feldman.
She is survived by her daughter, Gail Oshier; son in law, Carl Linderholm; her love, Richard Soward; granddaughter, Jennifer Plevnic; grandsons, Michael C. Sheely & James Plevnic, great granddaughters, Erika Slikker & Shianne Wallace; her stepdaughter, Debbie Menne; and her sister Carol Sticknote & her brothers Maurice & Danny Parnell.