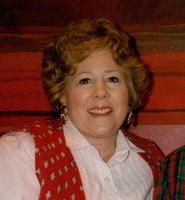 Elizabeth Thompson
Elizabeth "Betty" Kay Buckler Thompson passed peacefully at home Friday, December 22, 2017 after a lengthy battle with the complications of Multiple Sclerosis.
Memorial Service: A memorial service will be held on January 3rd, 2018 at 2 p.m. in the chapel of First United Methodist Church of Fort Worth, 800 W 5th St, Fort Worth, TX 76102, with a reception following at the church.
Memorials: In lieu of flowers, memorials may be made to the Multiple Sclerosis Society North Central Texas Chapter or a charity of your choice.
Betty was born in Waco, to William Harding and Cathryn Crisler Buckler. Betty grew up with three loving sisters, Margie Kerr, Sally Rust and Kathy Lau in Waco, Texas. After graduating from Waco High School, Betty received her B.S. in Education from Baylor University where she was a Pi Beta Phi.
Betty married Timothy E. Thompson on July 23, 1966 in Waco, then soon after moved to Fort Worth, where they began their life together. She was an active member of the Junior League of Fort Worth, the Junior Women's Club (Culinary Arts) and the Jewel Charity Ball. Betty enjoyed volunteering at Campfire and the Child Study Center. She was an amazing cook and loved to entertain friends and family at home. She also taught elementary school and then was a buyer for a bridal registry for many years.
Betty is survived by her devoted husband of 51 years, Timothy E. Thompson; daughter, Tracey Shaw and husband, Chris; sons, Tim Thompson, Jr. and wife, Marmendy, Trent Thompson and wife, Teri; grandchildren, Mathilda, Emma and Grant Thompson.
The family would like to acknowledge and thank Betty's husband, Tim, for his ceaseless loving devotion to her care. They would also like to thank the staff of Community Hospice and Klarus Home Health Care.