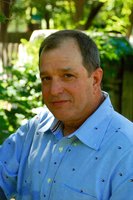 Tony Blacknall
Tony Blacknall, 59, passed away on Sunday, December 24, 2017.
Visitation: 1:00 - 2:00 p.m. Wednesday, January 3, 2018 at Christ Wesleyan Methodist Church 3709 Harwood Rd, Bedford.
Service: 2:00 p.m. Wednesday, January 3, 2017 at the Church.
Tony was born on June 28, 1958 in Fort Worth to Barbara and Neil Blacknall. He was a 1976 graduate of Nolan High School, and attended Tarrant County College. Tony loved the Lord, riding his Harley, and working as a Quality Technitian for Klein Tools. He will be greatly missed by all who knew him.
Survivors: Wife, Melissa Blacknall; sons, Michael Blacknall and wife Kari, and Ryan Blacknall and wife Aysha; grandchildren, Barbara Kathleen Blacknall, Oliver Blacknall, Gabrielle Blacknall, Sophie Blacknall, and Olivia Blacknall; parents, Barbara and Neil Blacknall; sister, Mary Payne and husband Russell; brother, Mark Blacknall and wife Billie; and numerous nieces, nephews and extended family.