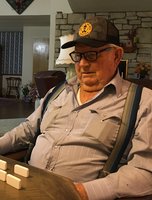 Walter G. Dorety, Jr.
Walter G. Dorety, Jr., passed away on October 11, 2017 at the age of 87.
Graveside Service: 2:00 p.m., Friday, October 13, 2017 at Old Hall Cemetery 1200 Mcgee, Lane, Lewisville, TX.
Walter was lovingly referred to as Dink, a nickname that was given to him by his four siblings. Dink was born in Irving, Texas on January 19, 1930 to Walter George and Jacy Dorety. Dink married the love of his life and square dance partner, Gwen Twitty, on January 18, 1948 in Gainesville, Texas. The fourteen year olds met during a "corn cob" fight which turned into a rotten egg fight. Dink was a man of his word who loved people and made friends wherever he went.
He was proceeded in death by his parents; son, Terry Don; daughter-in-law, Louise; 2 sisters; 2 brothers; 3 grandchildren and 1 great grandchild.
Those left to cherish the memory of Dink are his wife of 69 years, his son, Johnny Ray (wife Terre) of Grapevine; 5 grandchildren; 8 great-grandchildren; 7 great-great-grandchildren; 3 step-grandchildren; 1 step-grandchild; and a host of nieces and nephews.
Honorary Pallbearers are: Adam Dorety, Ryan Dorety, Josh Dorety, Sam Dorety, Chris Watson and John Elston.