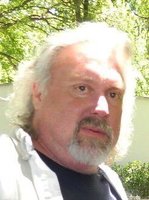 Tim Warren Thornton
Tim Warren Thornton, 57, passed away on Sunday, October 8, 2017.
Memorial Service: 7 pm Thursday, Martin Thompson & Son Funeral Home, 6009 Wedgwood Dr., Ft. Worth.
Memorials: Should friends desire, memorials may be given to Rosa's Hospice, 306 E Randoll Mill Rd, Suite 700, Arlington, TX 76011.
Tim was born on April 19, 1960 in Ft. Worth to Russell and Nancy Thornton. He was a 1979 graduate of Eastern Hills High School. He loved to fish and play golf where his golf buddies called him "Griz". He was a devoted father, grandfather and companion. Tim was also an avid TCU fan.
Survivors: Children, Michelle Newton and husband Randy, and Magen Adley and husband Cody; grandchildren, Ryder and Paisley Newton, and Gunner and Elamae Adley; companion, Rita Bettes; and his best friend "Wrangler".