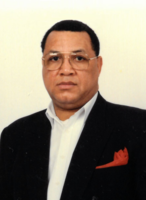 Major Carrington Samuels
Major Carrington Samuels, 73, passed away September 9, 2017.
Services: 10:00 a.m. Saturday, September 30th at St. Mark's Anglican Church, 2024 S Collins St, Arlington, TX 76010.
Interment: Emerald Hills Cemetery, 500 Kennedale Sublett Rd, Kennedale, TX 76060.
Major was born March 5, 1944 in Liberia to Abesesa Samuels and Chelnisia Scott Samuels.