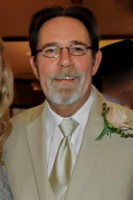 Milton Roy Renfro
Milton Renfro, 64, passed away on Tuesday, September 19, 2017.
Celebration of Life: 10:30 a.m. Saturday, Del Norte Tacos, 101 E Hwy 171, Godley, TX.
Should you wish to send flowers, please have them delivered to Martin Thompson & Son Funeral Home, 6009 Wedgwood Dr., Ft. Worth.
Milton was born on November 2, 1952 in Fort Worth to Milton and Clara Mae Renfro. He attended Paschal High School. Milton loved his wife, children and grandchildren, and attending their activities. He was an avid Dallas Cowboy fan and enjoyed watching sports on TV. Milton will be greatly missed by all who knew him.
Milton was preceded in death by his parents, and sisters, Linda Blankenship, Barbara Renfro, and Carol Flake.
Survivors: Wife, Cindy Renfro; children, Brooke Ray and her husband Matt, Melanie Carpenter and her husband Kelly, and Mindi Watson; grandchildren, Baylie Pearson, Camden Watson, Tenley Ray, Whitten Ray, and Taylen Ray; sister, Sandra Underwood and her husband Rex; numerous nieces and nephew.