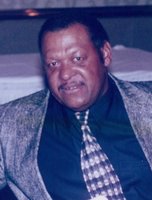 Joseph Watson
Joseph Watson, 68, passed away May 16, 2017.
Service: 12:00 noon, Saturday at Christ Cathedral Church, 3201 Purington Ave, Fort Worth, TX 76103. Visitation: 6-8 p.m. Friday at Martin Thompson & Son Funeral Home, 6009 Wedgwood Dr., Fort Worth, TX 76133. Interment: Skyview Memorial Park.
Joseph was born November 16, 1948 in Crockett, Texas to Elbert and Bobbie Watson. He moved to Fort Worth, TX in 1969 and worked for the City of Arlington. He retired after 24 years of service.
He was preceded in death by his father, Elbert Watson; mother, Bobbie Watson; brothers, Jode and Jefferty Watson; and sister, Katie Watson.
Joseph is survived by his wife, Mary Watson; son, Joseph Timothy Watson (Sheila); daughter, Azaline Johnson (Keith); silbings, Elma Lee Davis, Lucy Watson, and Dave Watson (Ethie).